All Natural Hormone Free Gold Coast Pork
Natural Pork is a favourite meat of many Australians, Pork not only tastes fantastic but it is a rich source of goodquality protein.  Did you know that gram for gram, pork tenderloin has less fat in it then chicken breast?  It is no wonder why so many people love bacon and ham.  Here on the Gold Coast at Hope Island Gourmet Meats we also make all our own hams right in store, the freshest and tastiest hams you can get your hands on. Our award winning, made onsite,  Gold Coast Pork Sausages are a taste sensation and a great choice for your next BBQ.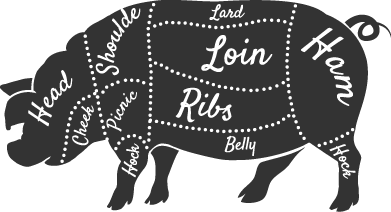 Here at our Gold Coast butchers, we carry the best quality Bangalow and Northern Rivers pork and can arrange nitrate free bacon and hams or preservative free sausages on request.
There are many ways in which you can cook pork up and for some great recipe ideas, check some of these out.